GC2 Fitting Rooms


Introducing the new GC2 Launch Monitor, it's a game changer!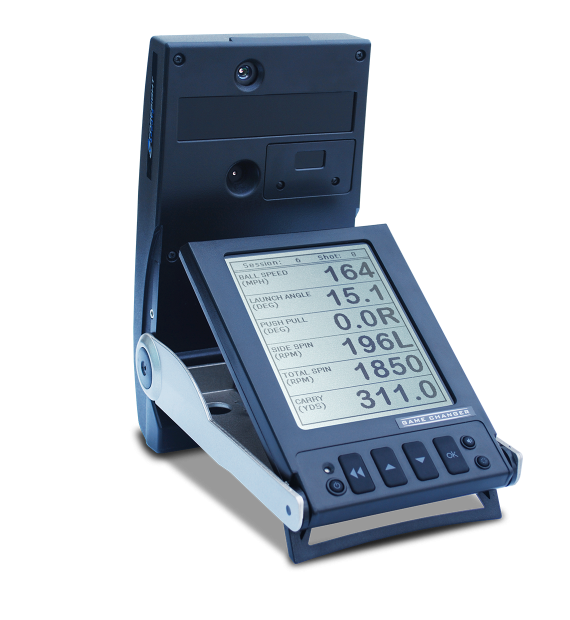 Golf Traders recently took delivery of the state of the art GC2 Launch Monitor & Simulation system which has been proved the most accurate launch monitor on the market today. It's a measuring machine that provides us with various information on what is happening to the ball and club head as you hit the ball. It then shows an accurate real time flight of the ball on the hitting screen. This is then followed with data numbers so we can analyse how the club is performing and/or how the technique is affecting your ball flight.
GC2 will measure the following:
Clubhead Speed
Ball Speed
Launch Angle
Clubface Position at Impact
Backspin Rate
Sidespin Rate
Total Spin
Descent Angle
Carry Distance
Total Distance
Offline Distance
Peak Height Distance
With all this information after every strike of the ball we can build data averages of how a certain club is performing and whether it's suited to your swing. Then we can test various different models and shaft options to compare them against each other to see which is performing the best.
To take advantage of this fantastic technology Book Now
Driver Fitting
Let's look at how you swing your driver and what kind of correction it needs.
Firstly, we will have a chat about the ball flight and shape of the shot you are looking to have or if you are trying to eliminate a certain bad shot then we can test other drivers that will be suitable. The GC2 software will analyse each club giving data readings and averages on how each club is performing, from there we can determine the perfect driver for you.
Fairway Woods / Hybrid Fitting
For this fitting we will use the GC2 software to help determine the correct lofted fairway wood and hybrids to fit in your set make-up. This will provide even distance gaps between each club.
Iron Fitting
With the GC2 Launch Monitor and my large selection of demo equipment we can test various different models of irons interchanging with different shaft options to provide the ideal launch and spin to maximise ball flight and distance! After deciding the perfect shaft a full fit is carried out to determine length, lie, grip thickness & grip type.
Wedge Fitting
Depending on how many wedges you want to carry we can fit the correct lofts to give even distance gaps between each wedge, therefore improving your distance control in the most important area - short game
Gap Testing
Gap testing is designed for you to have complete control over the distance between each golf club. Combine this information with your personal GPS system and you can seriously improve your game and course management skills.
Ball Fitting
The type of ball you are using is a very important factor of how it performs through the air, not just around the greens. In this session we will test your current golf ball on the GC2 launch monitor to see how it's performing. Depending on the spin you are producing we can then test different models of golf balls to help improve control and distance.
Golf Tuition and Swing Correction
One of the biggest problems faced when coaching indoors is not being able to view the ball flight. With GC2 I can project a picture of a practice range or golf hole onto the hitting net, combined this with the simulation software you will now be able to see your ball flight as if you were outside!! Therefore you'll see instantly the improvements from changing technique during a lesson. This combined with the video analysis we can provide an unbelievable golf lesson experience giving you instant feedback through ball flight and video playback of the swing. All this in the comforts of indoors

To take advantage of this amazing technology, visit Golf Traders!